The Startup Competitions You Can't Afford to Miss in 2019
Looking to pitch your idea at a startup competition?
You might have the greatest product or idea, but it takes a lot more to bring it to the market. You will be faced with many obstacles when launching a startup. Some of them include restricted assets and resources, worries of cash flow and the lack of exposure. One way to overcome these obstacles is by participating in startup competitions.
Participating in a startup competition could be one of the most powerful experiences for startups, especially in their early stages as it can help to bring their business to the next level. Even if the prizes are a great motivator to participate in such events, no one leaves empty handed. There is a lot to gain including possible investments, media exposure, and potential strategic partnerships.
In a previous post "The Startup Pitches That Won Incredible Awards", we explained how to prepare an exceptional speech and get ready for a startup competition, along with a list of the winning startups and the prizes they won. But what are the perks and advantages that come with participating in such events and which events should you attend in 2019? 
Valuer.ai has created the ultimate list with some of the best pitch competitions worldwide and the possible prizes and awards you can win in 2019.
Staying relevant is key
In the startup culture, pitch competitions have become increasingly popular. Wherever you are living in the world, there are events that revolve around pitching. The winners receive exclusive prizes like cash or funding, helping them to bring their business idea to reality. However, it could be costly and time-consuming to participate in such events as startups, at least some of the time, are required to pay a fee to enter.
There is no limit to the number of startup competitions you can attend. But if you are attending every event year after year without success, the judges and audience might question your idea and product. Therefore, before choosing which competition's to enter, it's necessary to evaluate the event and select which one is going to bring the most benefits to you and your business.
Most events and pitch competitions have their own themes and topics so make sure your startup is eligible and relevant. For example, if your startup can classify itself as a social enterprise, look for competitions in the relevant niche. Participating in big and general startup events could be exciting but sometimes the smaller industry events could bring more value to your startup.
The quality of the audience varies from event to event. How can you benefit from the audience? One of the attendees could be your next investor, partner, team member or even a product buyer. Be selective to make the best out of a startup competition. Choose the events where the audience is similar to your target market and the attendees are investors your business could benefit from.
The list of startup competitions in 2019
2019
February
Mobility Pioneers
The winning startup will be fast-tracked directly to the Pioneers Challenge Top 50 at Pioneers'19
7th


Munich, Germany
TechChill - Fifty Founders Battle
€10,000 & chance to get fast-tracked to Startup World Cup Finals in San Francisco in May 2019
21-22nd


Riga, Lavia
4 Years From Now
Space on exhibition, promotion and free international press, possible funding, entry to Accelerator program
25-27th


Barcelona, Spain
Get In the Ring
Place at Global Meetup 2019 for a 3-day retreat and business networking opportunity
28th


Osaka, Japan
(finals
March
The Postcode Lotteries Green Challenge
Winner gets €500,000 and runner up €200,000. Other three finalists will win €100,000
1st - 1st of May
Amsterdam, Netherlands
G-Startup Worldwide
$250,000
until November
Beijing, Tel Aviv, Dubai,
Riyadh, Silicon Valley, Sao Paulo,
Jakarta, Bangalore
Connect2Capital
Possible Funding
7-8th


Gothenburg, Sweden
UNWTO Gastronomy Tourism Startup Competition Spain 2019
5 finalist startups will be sponsored to pitch their idea to a panel of experts, governments and industry leaders at the 5th edition of the World Forum on Gastronomy Tourism in Spain on 2-3 May 2019
Deadline to apply : 5th of March


Basque Country, Spain
SXSW Startup Night
Funding opportuntiies, Media Exposure
9-10th


Austin, Texas
HATCH Pitch Summit

$1,000,000
12th
USA
Polar Bear Pitching
€10,000, media exposure and funding opportunities
12-13th


Oulu, Finland
Fast Pitch
N/A
14th


Ohio, US
Skinnovation
Possible funding from investors
14-16th


Innsbruck, Austria.
Hello Tomorrow
One €100K Grand Prize for the best early stage startup and Equity-free & Eleven €15K prizes
14-15th


Paris,France
European Social Innovation Competition
€50,000
20th


Paris, France
Start Summit
20.000-25.000 CHF
21-22nd


St. Gallen,Switzerland
CV Summit
$100,000 in funding
27th


Zug, Switzerland
The Proving Ground 2019
Up to $17,500
28th


South Carolina,US
2019 Idaho Entrepreneur Challenge
$100,000 in seed funding
28th


Idaho, US
April
Arch Summit
Up to €250,000 in prizes
3-4th


Luxemburg
TiEQuest 2019
$50,000 cash grand prize offered, as well as all-inclusive trips to Silicon Vallery for the top five finalists
4th


Toronto,Canada
Seedstars World Competition
Equity investment of up to $1,000,000
4-5th


Lausannne, Switzerland
Rice Business Plan Competition
$300,000 investment
4-6th


Lausannne, Switzerland
Entrepreneur 20X
€2,500 EUR
9th


Palma Mallorca, Spain
Dublin Tech Summit
Women in Tech Awards & possible funding for participation in Startup 100 Pitch Competition
10-11th


Dublin, Ireland
Startup Camp Pitch Marathon
Cash
Possible funding
12-13th


Berlin, Germany
Startup Turkey Demo Day
Possible funding
15-16th


Istanbul, Turkey
Northwest Entrepreneur Competition 2019
Total of $42,000 in prize money and $20,000 in professional resources,
18th


District Columbia, US
2019 GW New Venture Competition
Over $300,000 in prizes
18th


District Columbia, US
Urban Future Prize Competition
Over $300,000 in prizes
22nd


New York, US
ITS A START 2019
Cash prize and opportunity to attend Beijing's Overseas Talent Entrepreneurship Conference (OTEC).
25-27th


Toronto,Canada
May
EU-Startups Summit 2019
Prize package worth of €70,000
2-3rd


Barcelona, Spain
infoShare Startup Contest
€ 20,000
8-9th


Gdansk, Poland
NIBS Worldwide Business Plan Competition
Cash Prize
9th


Online
TNW Pitch Competition
Potential Investment
9-10th


Amsterdam, Netherlands
International Business Model Competition
$30,000
10-11th


Provo, Utah
Startup World Cup
$1,000,000
11th


North and South America, Europe, Asia, the Middle East, and Africa
Webit.Festival Europe
€ 200,000 seed investment
13-15th


Sofia, Bulgaria
Viva Technology
TBA
14-16th


Paris, France
Innovation of Things World Series
Promotion
15-17th


California, USA
The Mark Challenge
Monetary and other prizes
16th


Monaco
Latitude59's Pitch Competition
Investment from Nordic Angel Program for up to €250 000, equity free cash & more prizes
16-17th


Tallinn, Estonia
Collision Pitch
Monetary prize
20-23rd


Toronto, Canada
Podim Challenge
All-inclusive & tailor-made one week program for 2 team members in one of the global startup hubs
21-22nd


Maribor, Slovenia
Spark.me Startup Competition
Sponsored trip to attend TechCrunch Disrupt in San Franscisco
25-26th


Tivat, Montenegro
June
Arctic 15
Opportunity for a syndicate deal from Nordic & Baltic angel investors
5-6th


Helsinki, Finland
MidemLab Music Startup Competition
Possible funding
6th


Cannes, France
Web2day
Possible funding
5-7th


Nantes, France
Techsylvania Pitch Competition
All expenses paid trip to Silicon Valley
8-11th


Cluj-Napoca, Romania
Heureka VC Pitch
Funding Opportunities
12th


Berlin,Germany
Israel Mobile Summit
TBA
12th


Tel Aviv, Israel
The Founder Institute
Possible funding
13th


Copenhagen, Denmark
Launch Festival
Possible funding
19-20th


Sydney, Australia
Startup Extreme Competition
TBA
24-26th


Voss, Norway
PIRATE Summit "Walk-the-Plank" Pitch Competition
Business trip to San Francisco, London or Berlin
26-28th


Cologne, Germany
July
TOA DT50
Up to € 50,000 plus many prizes
2-5th


Berlin, Germany
The Europass European TechStartup Awards
Award
3rd


London, United Kingdom
BBVA Open Talent
€50,000
10th


Madrid, Spain
PITCH at RISE
US$100,000 worth of service products
9-12th


Hong Kong, China
Startup Fest
Over $750,000 worth of prizes and investments
9-13th


Montréal, Canada
Unbound Pitch Competition
Monetary prizes TBA
17-18th


London, UK
Sevan Startup Summit
Up to $50,000 divided for each category
TBA


Yerevan,Armenia
VWFS Battlefield
$50,000
TBA


TBA
CodeLaunch
over $67,000
31st


Texas, USA
August
Y Combinator Demo Day
$120,000
20-22nd


California, USA
September
Disrupt SF Startup Battlefield
$100,000
5-7th


San Francisco, USA
Queens StartUP! competition
$50,000
8-20th


New York, USA
ITU Telecom World Awards 2019
Funding opportunities and media exposure
10-13th


Budapest, Hungary
SevenVentures Pitch Day
Promotion
12th


Cologne, Germany
New York StartUP! 2018 Business Plan Competition
$15,000
14th


New York, USA
Blast Roma Pitch Competition
Possible funding, exposure, access to VIP events
19-20th


Rome, Italy
ElevateR Pitch: AI Edition
over Can$1,000,000
21-27th


Toronto, Canada
Oslo Innovation Week
Monetary prize
23-27th


Oslo, Norway
FinCon FinTech Startup Competition
$2,500
Award
26-29th


Orlando, Florida
IT Arena
$10,000, entry to accelerator programs and more prizes
27-29th


Lviv, Ukraine
Bitz & Pretzels
Golden Pretzel Award
29th of September - 1st of October


Munich, Germany
October
Female Founders Competition
$2,000,000
until November


Tel Aviv, Seattle, London, San Francisco, New York
Pitch for the Purse
$150,000 - 1,000,000
until February


Canada
43 North
$1,000,000
3rd


Buffalo, New York, USA
Pitch Competition: Canadian Innovation in Sustainable Textile and Apparel
Can$ 10,000
3rd


Toronto, Canada
South Summit Startup Competition
Participation in Startup World Cup
3-5th


Madrid, Spain
GITEX Future Stars 2019
Grand winner gets $100,000
6-9th


Dubai, UAE
The New Energy Challenge 2018
€100,000
18th


Amsterdam, the Netherlands
Aurora Chamber Business & Technology Summit
$2,500
18th


Aurora, Canada
Ideaspace 7th Startup Competition
Equity-free grant for product and market development and up to P 1,000,000 in equity funding
19th


Makati City, Philippines
SaaStock 2019 Dublin
$25,000 & more prizes
14-16th


Dublin, Ireland
NOME Start-up Competition
Possible funding
24th


Copenhagen, Denmark
Nordic Startup Awards
Award
30th


Copenhagen, Denmark
University Startup World Cup Competition
$25,000
TBA


Copenhagen, Denmark
EIT Digital Challenge
Growth support from EIT Digital Accelerator worth 50,000 & cash prize of €50,000
TBA


Brussels, Belgium
Wolves Summit Great Pitch
Winner will be invited to take part in the Grand Finale of Startup World Cup in San Franscisco
TBA


Warsaw, Poland
Tech BBQ
Entrance to the Nordic Angel program
TBA


Copenhagen, Denmark
Venture Cup Denmark Startup Competition
DKK 100,000
TBA


Copenhagen, Denmark
November
Varsity Pitch Competition
£10,000
12th


London, United Kingdom
Madrid Mobile Summit Contest
Participation in Mobile World Congress
13th


Madrid, Spain
U.Pitch National Elevator Pitch Competition & Showcase
$10,000
15th


Chicago, Illinois, USA
The Arch Grants Global Startup Competition
$50,000
16th


Washington DC, USA
Arab Startup Competition
up to $160,000
18th


Arab Region
Ignite Capital Competition
up to $15,000
TBA


Ontario, Canada
Startcon
$1,000,000
TBA


Singapore, Perth, Adelaide, Melbourne, Brisbane, Darwin, Jakarta, Seoul, Shanghai, Regional VIC, Manila, Sydney, Auckland NZ, Chennai
MIT $100K Competition
$100,000
TBA


Massachusetts,US
Web Summit PITCH
TBA
TBA


Lisbon, Portugal
Creative Business Investors Pitch
€ 5,000
TBA


Copenhagen, Denmark
Betapitch Global Startup Competition
A flight to Silicon Valley + € 5,000
TBA


Berlin, Germany
Giant Health Event
Cash prize, consulting, media packages and more prizes
TBA


London UK
StartUp Serbia Competition
Media exposure and funding opportunities
TBA


Novi Sad, Serbia
December
The Vator Investment Club
$150,000 - 500,000
31st


San Francisco, Oakland Silicon Valley, Palo Alto, Stanford, San Jose
Slush Pitch Competition
TBA
TBA


Helsinski, Finland
Are you China ready?
27 Semi-finalists get all-expenses paid trip to China and grand prize is $25,000
TBA


Guanghzou, China
Where are these competitions located?
The perks of entering a startup competition
The prizes that come with your participation are only the tip of the iceberg. Even if you don't win the grand prize, the opportunities that come with such events could benefit you tremendously. It isn't always about winning, it is also about meeting the right people and receiving exposure. So if you are only looking to enter competitions for the prizes, open your eyes to the other possibilities.
If you are questioning whether attending a competition is worth your time, ask yourself "is this competition going to help us reach our goal?". Depending if you are looking for some new partnerships, team members, a potential investor, or media exposure, would the event help you achieve any of these goals?
To better understand the advantages that could come with such events, Valuer.ai has listed the potential opportunities that come with presenting at startup competitions.
Winning exclusive prizes
The greatest motivator that encourages people to participate in startup competitions are the prizes. The prizes are different in each event and could vary from a couple of thousands to millions of dollars. Startups can take advantage of their prize and use it to scale their startup and move forward towards their goals and ambitions.
However, in many cases, the prizes are not limited to monetary ones. Some of the pitch competitions offer covered business trips to some of the greatest startups events in the world, entry to accelerator programs and access to co-working spaces and incubators.
Receiving constructive feedback
You might be thinking that your product is the greatest in the world and there is nothing stopping you from conquering the world. It is important to receive some feedback to know how others perceive your product and idea.
Perhaps the people sitting in the judging panel have years of experience in the field that allows them to detect any holes in your business that you need to address. Judges can often give you constructive criticism that will help you improve and guide you in the right direction. Even the potential clients can provide you with their insight and opinion on your product that will help you adapt or develop your idea further.
Unfortunately, feedback is often avoided and feared in the startup world. Entrepreneurs tend to gracefully accept positive feedback but at the sight of negative feedback, they become quite defensive. Lucas Pols, CEO, and Founder of Spark xyz, has highlighted the importance of feedback and how to receive it in order to benefit your startup.
In his words,
"If we can get back to listening to each other and truly hearing the other person, it could be the difference between your startup succeeding and failing."
Growing your network
Startup competitions bring together extraordinary groups of highly-skilled entrepreneurs with different experience levels and backgrounds who are looking to connect with like-minded people, share their ideas and create long-lasting relationships.
You never know who you will meet during the event. One of the most commonly shared sayings among entrepreneurs is "Your network is your net worth." And it's true. As your business network is growing, you will realize that more and more doors are opening. A person you meet today might have a significant impact in the next few years.
Let's not forget that many venture capitalists (VC's) and angel investors attend such events looking for the next big thing to invest in. Meeting investors who will not fund your company could be valuable since they can lead you to other investors. Networking usually happens off stage at the exhibition or at the after-event parties the hosts are organizing.
Building your confidence
If there is one trait that you need as an entrepreneur, it is confidence. From the moment you decide to start a business, you have to believe in yourself and your ability to successfully make deals, negotiate with partners and lead your team. Investors are looking to invest in confident people that are sure of their products and ideas as its an indicator of their competence and credibility.
However, no matter how confident you are, pitching at a competition can be stressful. It is a personal experience, you have to bare your soul and in just a couple of minutes present your mission and vision in front of hundreds of people and expect to get feedback from top leaders. It won't always be positive. However, going through the process can help you build your confidence even more. Later in life, you might look back and say "If I competed in a startup competition with that big of an audience, then I can do this."
Mastering your pitch
Normally when participating in a startup competition you are given a set time constraint to present your idea in the most compelling way. And let's face it – pitching is important! An entrepreneur should be able to convince the audience that the idea is great. If the audience doesn't believe in the idea, who is going to buy your product?
Startup competitions force you to practice your pitch. It is a good way to start mastering the art of pitching. The more you practice, the better you get and the more people begin to believe in your idea.
At some pitch competitions, you encouraged to present a pitch deck – a brief presentation in powerpoint form which provides an overview of your business plan. Check out our post on the secrets to creating a great pitch deck for an in-depth checklist and examples of what to include in your pitch deck!
Gaining media exposure and free publicity
If they select your startup for the finals and you get on stage, all the eyes are on you. Especially when participating in startup competitions that are happening on a global scale and attract international visitors. Examples of such competitions are the PITCH-Websummit in Lisbon or Collision Pitch in Toronto. Big events attract local and global media. Expect to see journalists from many parts of the world attending such events, looking to write about the next success story or any honorable mentions.
In case your startup is among the winners, it is almost certain that your accomplishment will be written about. You will attract readers with you and your product. So don't underestimate the power of a startup competition and the publicity that will follow. Don't forget about the publicity you can get from the audience while you are on stage and presenting your product. The audience could be your target market and presenting in front of them could cultivate their interest and eventually lead them to become your first buyers.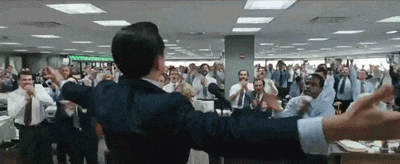 Getting a spot at the exhibition
Most of the times the event hosts are giving to the participants their own exhibition booth where they can display the product in their own way. Having your own exhibition spot gives you more personal space and it's a lot less nerve-wracking having one to one interactions than pitching your idea in front of hundreds of people, light beaming down on you, sweat patches visible for all to see.
Exhibitions are a great way to connect with fellow entrepreneurs that are in the same industry and can help you expand your network. Also, it's a good opportunity to meet prominent Business Angels and Venture Capitalists that are wandering through the exhibition space and are looking to expand their business portfolio.
Being recognized for your hard work
You have been spending all this time and energy to bring your idea to reality because you are passionate about it and a strong believer that one day it will work out. Being an entrepreneur is not an easy task and many times you will be disappointed. The whole idea of entrepreneurship comes at a great cost whether it's time, money or emotional investment.
When winning a startup competition, it can motivate you to keep doing what you are doing because it feels good to know that other people believe in your idea too. Winning creates a sense of purpose and identity and being able to say that you won a global competition makes you stick out from the rest of the pack.
Winning presentation tips
1. Practice – it's true what they say – practice makes perfect! Practice your speech in front of the mirror, your friends, rehearse and refine continuously until it leads to the final presentation.
2. Tell the story and show the product – judges, investors, and media are human beings and they connect with a good story. Think of a good pitch just like a Hollywood movie – you need a cool intro, an engaging middle, and an epic finale. In his blog post, Paul Alex Gray is explaining how to use storytelling to win your audience.
3. Keep it short and simple – a winning pitch should be straightforward and simple, cut off the superfluous material and slides that don't give any value to your proposition.
"You really need to be able to convey what you do in the first 30 to 60 seconds," Sanjay Parekh
4. Be prepared – what would the judges possibly ask you? Watch videos on YouTube or read relevant articles that will help you prepare for any possible questions that may come up.
5. Know your numbers – backing up your idea with some stats will strengthen your credibility and will make your points stand out. How big is the market? Are there any competitors? What is the break-even analysis? What are the estimated revenues?
6. Be authentic – no one likes copycats! So be yourself and tell your story in your own unique way.
In conclusion
Startup competitions could take your business to a new level if done right. It's important for you to evaluate each competition and participate where you think it will bring the most benefits.
Winning a competition is the cherry on the cake. There is a plethora of advantages and perks that come with your participation in pitch competitions such as networking opportunities, gaining media exposure and receiving feedback that should be not overlooked when applying.
Any new company requires fundraising along with self-promotion. A good solution to build your brand is by taking part in challenging events. Events like this are picking up in speed and gaining popularity worldwide!